i'm getting very used to sleeping on the floor…
so we're back in seoul. and…. not exactly sure what sightseeing there is to do. BUT we all want to shop 😛 so we headed for LOTTE Department Store near Myeongdong. Here, and in Japan, the department stores are basically a collection of smaller stores packed onto a floor with their own employees. They are a lot less pushy than in Dongdaemun, but they see it appropriate to follow you around the store incase you want help… maybe koreans are used to it, but i'm sure we felt some sort of pressure. But like most department stores, the prices were……. above our willful range.
Karen found, on the map, a 'Young Plaza' or youth, that had some cheaper stores, and a uniqlo level, and more names that we recognize. we spent a good 3 hours there. karen was especially happy in the discount area for shirts and more for 5-15 dollars.
We went to eat at Kenzo Ramen in Myeongdong streets, apparently there's one at Kennedy and 7 or somethin? hm. and we dropped by some more shops until Jin called to tell us we were late for the festival! what festival u ask? the Yonsei University Festival, Akaraka.
It's basically a school spirit music festival. There was a bunch of school cheers and dances and jokes about their rivals, Seoul University. It was all accompanied by different and popular singers and comedians. The whole experience was great, altho it did get pretty rowdy in the middle of the stadium, not to mention the rain… There were some boy bands, girl bands, solo artists, comedians, rappers, and a very popular band, Super Junior. Ashley tried to translate most of the stuff but either way the festival was fun 😛
Cassie Karen and Michelle stayed in the middle-area for a closer view, maybe they were actually able to see the stage, while Jinhyo, Sunmi, and… their friend, something eun? and i went to the top for a better view and less of a rowdy crowd :P…
after super junior, around 9, we went to go eat at a Chicken place, lol… altho it did take a while to find the other 3 again. had some flower soju 0.o which wasn't bad at all, and Hite, a popular beer brand. altho we were told Cass is the better brand… 🙁
Headed back home, Michelle fell asleep on a pillar as the rest of us got on the train… only to wake up with me waving bye to her – -;… realizing she has the key to the hotel. awesome. haaha, but it didnt take long for her to find us again, she even borrowed a random phone to give us a call.
All in all, another good day.
We're leaving soon!!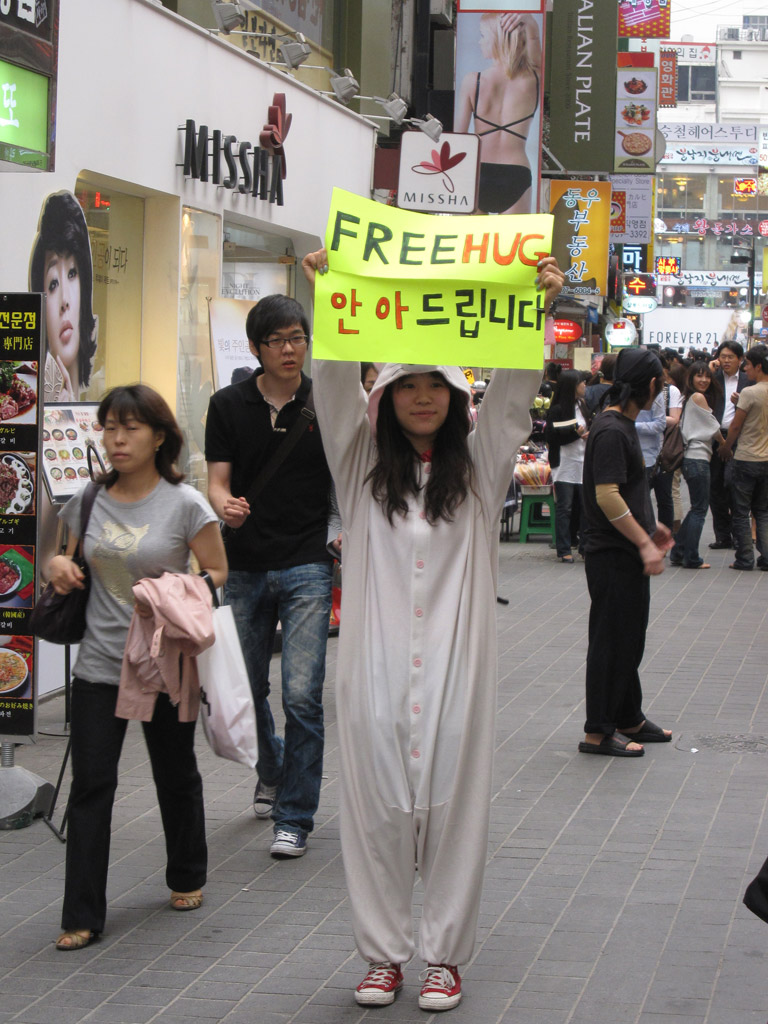 Free hugs in Myeongdong!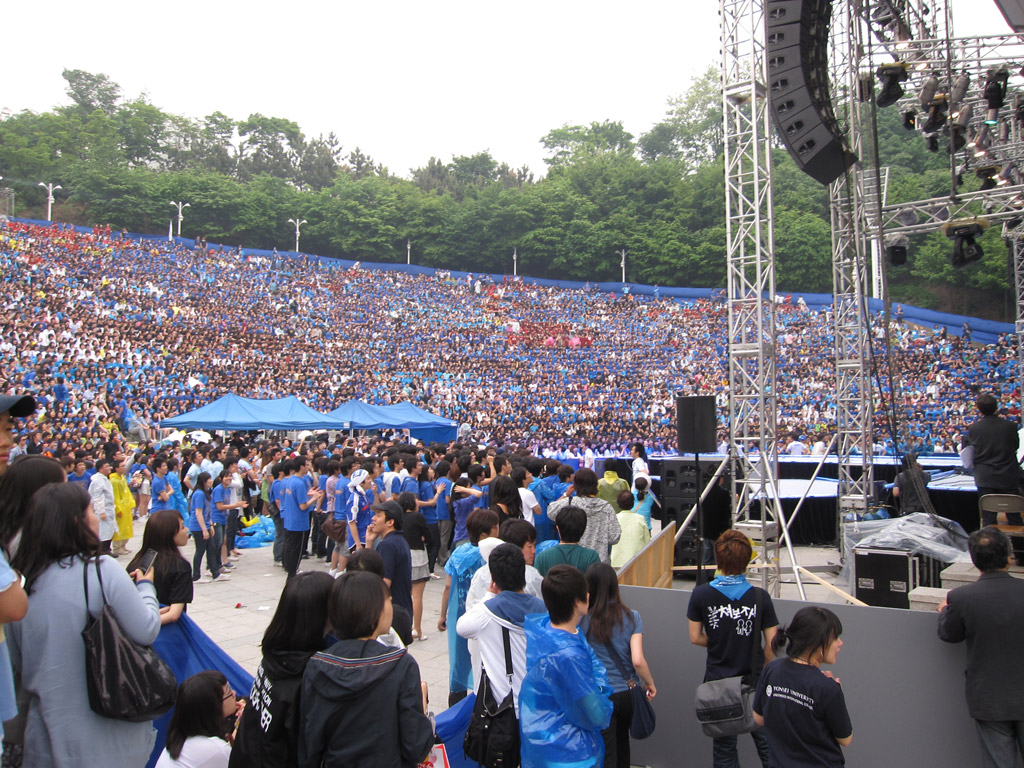 Yonsei University Outdoor Stage/Stadium… and we don't have seats.