Warning
: Use of undefined constant gad_content_tag_filter_replace - assumed 'gad_content_tag_filter_replace' (this will throw an Error in a future version of PHP) in
/home/surfer_u/travel.andrewu.net/wp-content/plugins/web-ninja-google-analytics/webninja_ga.php
on line
1813
Second day in KOS, slept for a while, woke up around 730 while the others stayed in bed. Went out on the balcony and read my book. Nice and sunny. Woke everyone else up at around 9 because the breakfast buffet ended at 10.
Breakfast was good too! Variety of foods, eggs, sausages, pies, yogurt, fruits etc. Yum. Finished up and checked out, put our stuff in a storage room so we could travel around on our bikes and explore KOS town.
Biking into town was… Slightly dangerous. Bike lanes and poles aren't very nice. Almost slammed into a pole while also dodging people coming from the other way. Yikes. While crossing, or trying to cross, mike and karen got ahead of us and went off somewhere. When michelle and I finally got through, we headed straight to 'dolphin square' where the bus loops back. A bit of stress not knowing where they went off to, but we eventually found them 😛
Biked to ruins and a castle, castle closed :(. The ruins were cool but we couldn't find a way down to them, as we saw other people walking among them. But we got sidetracked anyways and went through some souvenir shops, as tourists do. Some nice white painted buildings with blue roofs caught our attention away from going to another building and then souvenirs shops guided our ways. And at some point Karen found and bought a windmill miniature and was told that it was actually by Lampi Beach, close to the hotel. So we went off to find it via bike.
After getting some directions and traveling along the coast line, we came across a random street, and there it was! …although, it was abandoned, incomplete, without the windmill part. Sorta depressing. It seemed like there was also an abandoned semi-built school as well. After having some fun with our cameras we continued on down the road and surprise! To our left, another windmill! With the windmill part, without the sails, turned out to be a restaurant underneath it.
Going into the restaurant, we stopped for a snack, salads. Our meals have been very… Whenever we got hungry. We've actually unknowingly skipped a couple of them as we traveled around. Meh. Anyways, at… Mylos, setup on the beach, with the palm tree umbrellas and lounge chairs, ah the life. AND, wireless! Perfect. Mike used his iPhone and connected to a friend back in toronto via Facetime! Technology amazes me.
Keeping track of the time, we started to head back to return the bikes and catch our bus back to the city with our luggage. But we got back to the hotel a bit early so we went across the street to sunbathe! Bused, and we walking along to the Blue Star Ferry pickup.
The ferry was huge, 2 levels of vehicle parking and several cabins for people to stay in. Reminded me of a long long time ago, I believe it was a ferry to PEI? Hm. Anyways, our ferry left the dock at around 9 and we arrived at Santorini at about 130am. By that time, after biking all day, sweating all day, we were feeling preeeeetty disgusting. And my sunburn got a little worse on my arms, but still not stinging, put enough sunscreen on I guess, hurray.
From the port, the towns up in the mountains were lit up like cities in the sky, a strip of lights, very nice. The villa owner came and picked us up from the port and we drove up allllll the way up the mountain in Santorini, close to the largest town, Fira. A lot of turns, fun ride. Late night. Gnite!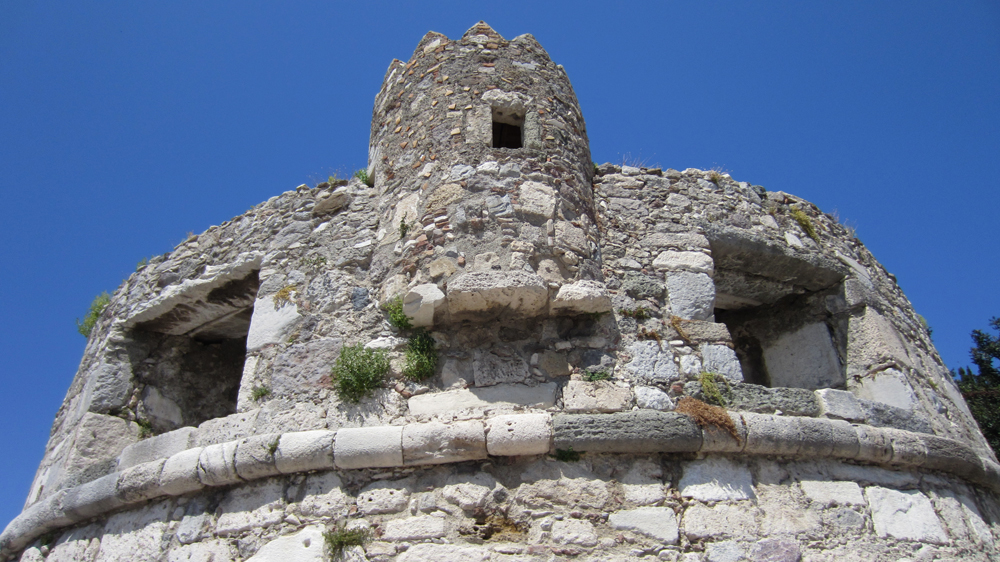 Ruins in KOS

A restaurant/bar by the windmill on KOS