Warning
: Use of undefined constant gad_content_tag_filter_replace - assumed 'gad_content_tag_filter_replace' (this will throw an Error in a future version of PHP) in
/home/surfer_u/travel.andrewu.net/wp-content/plugins/web-ninja-google-analytics/webninja_ga.php
on line
1813
11:15 flight out. Hm, no problems with my last name o.o, that was… Unexpected.
7ish hour flight to Frankfurt, shortest flight I've had in a while. The plan was so small, about 32 rows, could easily look to the front and back of the plane. Seats weren't very comfortable to sleep on, but you eventually get too sleepy to care.
For what seemed like such a short flight, arrived in Frankfurt at 130pm local time (+6 from est) and cruised through customs and baggage claim. Customs officer didn't even say anything. Handed over my passport, compared the photo, stamped, handed back. Thanks! Easypeezy.
Eventually found the subway tracks and made our way into the city to check-in. Karen made us research everything so it was pretty easy figuring out what we had to do. The Main station (Hauptbahnhof) looks and functions the same as Union, but the all the subway lines intersect here too, having more than 3 lines, its a bit more impressive. Found our hotel about 8 minute walk away from the station, Best Western, decent sized rooms! Not bad at all.
And our first stop: Eis Christina. A great ice cream shop, apparently on saturday there's a line up, but friday was already pretty busy too. On our way there via streetcar, we had our first memorable embarrassing tourist incident, we couldn't figure out how to get off T_T. Apparently all the public transit here, it is ran off of the honor system and to get on or off, a button has to be pressed. When we finally gave up trying to get off, the streetcar continued its journey. And it was then we found out, we had to step on a retracting step to initiate the doors, yup, as we were moving. Everyone else in the same car laughed, either with or at us, good times. 😀
Anyways, Eis Christina. First time ordering from a German shop so it was sorta… Awkward, heh. Didn't know what I was ordering 😛 Erdbeer Beche, which delightfully turned out to be a strawberry sundae, and it was huge. But oh so goooood.
After almost finishing the sundae, we made our way to the 'shopping' district, in particular, the MyZeil mall on Zeil street. The shape of this mall is very unique, like a vortex traveling through the front into the middle of the mall, and back out to the back of the mall. It made for interesting shapes and photos. But another awesome stop in this mall, the Lego store.
Besides being a Lego store, the best part of the shop was the 'My Digital Box' kiosk. Which was an augmented reality kiosk. Using the packaging of the Lego sets, the set comes to life. Being a train it would travel around on a track. A spaceship, or plane, it lifts off! And the Lego people walk around too, it was a lot of fun 😛 After a bit more walking around in the mall we went out on the streets to find some dinner.
Dinner at Conrad's Biersalon & Restaurant. Drink default, water = 2,20 € 🙁 that's not happening again. Had schnitzels, which were very filling and tasty to boot.
We continued on to explore and take lots of pictures. Coming to the Alte Oper, an opera house. We then made our way to the 'Main Tower' to watch the sunset and get a nice view of the city from above. As we got to the top, it was very reminiscent of the tower in Japan where I was three years ago, watching the sunset. Thanks to the clouds and planes, the sunset looked like an amazing combination of colours as an oil painting, beautiful. It got cold, windy, and dark. Went back out to the city, all the street lights now illuminating the paths, we headed back to the Alte Oper and got some more photos.
For our first day, not bad. And we're all tiiiiiiiired. Gnite. Will attach a couple pictures when I get the energy/chance.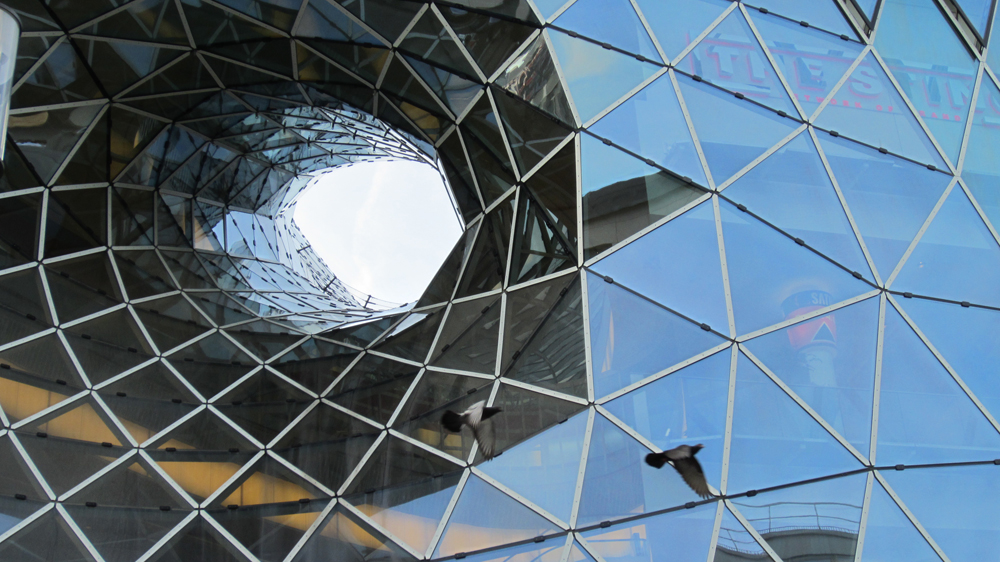 MyZeil

Sunset from Frankfurt