Waking up and finally leaving at 5am, Uncle Ron gives us a ride to the airport where our plane connects to Cairns on its way to Osaka and Tokyo, whee…
Aaaannnd here we are, Cairns. 3 hour flight from Sydney, compared to the 48 hour train ride 😉 good way to travel. Although it is supposed to rain in Cairns for the next couple days, we got here on a decent day with some sun and some clouds. Our first impression of Cairns once we stepped off the plane is that its very humid compared to Sydney, you can just feel the moisture, which brings out the bugs T_T.
Got a ride from Dreamtime Hostel and checked in with friendly staff and…. decent rooms. infested with small flies… annoying little buggers.
Undecided as to what to do, Chris, the attendant at Dreamtime, suggested a number of interesting things that we could do the rest of the day, it being 1130ish already… white water rafting, botanical gardens, bike ride down the esplanade, shopping, etc… After some planning and thought as to what we wanted to do in Cairns, we decided on……………………. bungy jump. AJ Hackett Cairns to be exact!
Yup. Bungy. We did it! expensive compared to the actual time it takes, but it was a great experience! Walking up the stairs to the jump was a trek, a lot of steps. Getting harnessed in and waiting for your turn… anticipation, hahaha… Tip-toed to the edge, looking down, wave to the camera… 5, 4, 3, 2, 1, goooooooooooooooooo…. i actually stayed in a dive position the whole time, its pretty funny, lol… spun around a lot and it was over! couldn't help but shout out as i fell. Once i got out i ran to rosanna's bag and grabbed her camera to capture her jump. They were a bit too dark but she should be able to get something out of them.
A lot of first time jumpers but there were a couple of return jumpers. One girl did her first jump that day and followed it up with 9 more. yikes. Another guy did 9 in total, intense. We were pretty much done after 1… There was also a man who came in a wheelchair, harnessed by the torso instead of the feet he jumped off and went!
Waited around until 4 for the ride back to our hostel, saw a lot of other jumps like a backflip, a running jump from the roof, a girl was held upside-down then dropped… We also saw some people freak out and one backed out completely, another screamed a couple times but finally got pushed off and enjoyed it 😀
Once we got back we booked another tour and went on our way for dinner. (we skipped lunch)… out in Cairns we just kept walking and found a LOT of souvenir stores and some nicer clothing stores. It is actually a very odd city, a lot of the shops are Japanese owned, there are a lot of Asian-style restaurants too. Of course alongside the Japanese owned shops, were a lot of Japanese tourists as well. We also saw a fair share of an asian population in Sydney, mostly Korean i believe.
Anyways, after a bit of souvenir shopping we headed out to find food. Again, a lot of asian-styled restaurants which we try to avoid. We settled on a small shop in the Daily Night Markets called Good Food Cafe, which came with an hour free wireless with the purchase, haha… we both had the Kangaroo Burger and Chips. Hmm… the kangaroo meat wasn't anything special, a bit tough, but i can now say i've eaten kangaroo. There is still Crocodile meat to try out too.
Tomorrow, an early morning to catch our boat for the Great Barrier Reef! Due to the Reef being where it is, Cairns is cursed with absolutely no surf. *sigh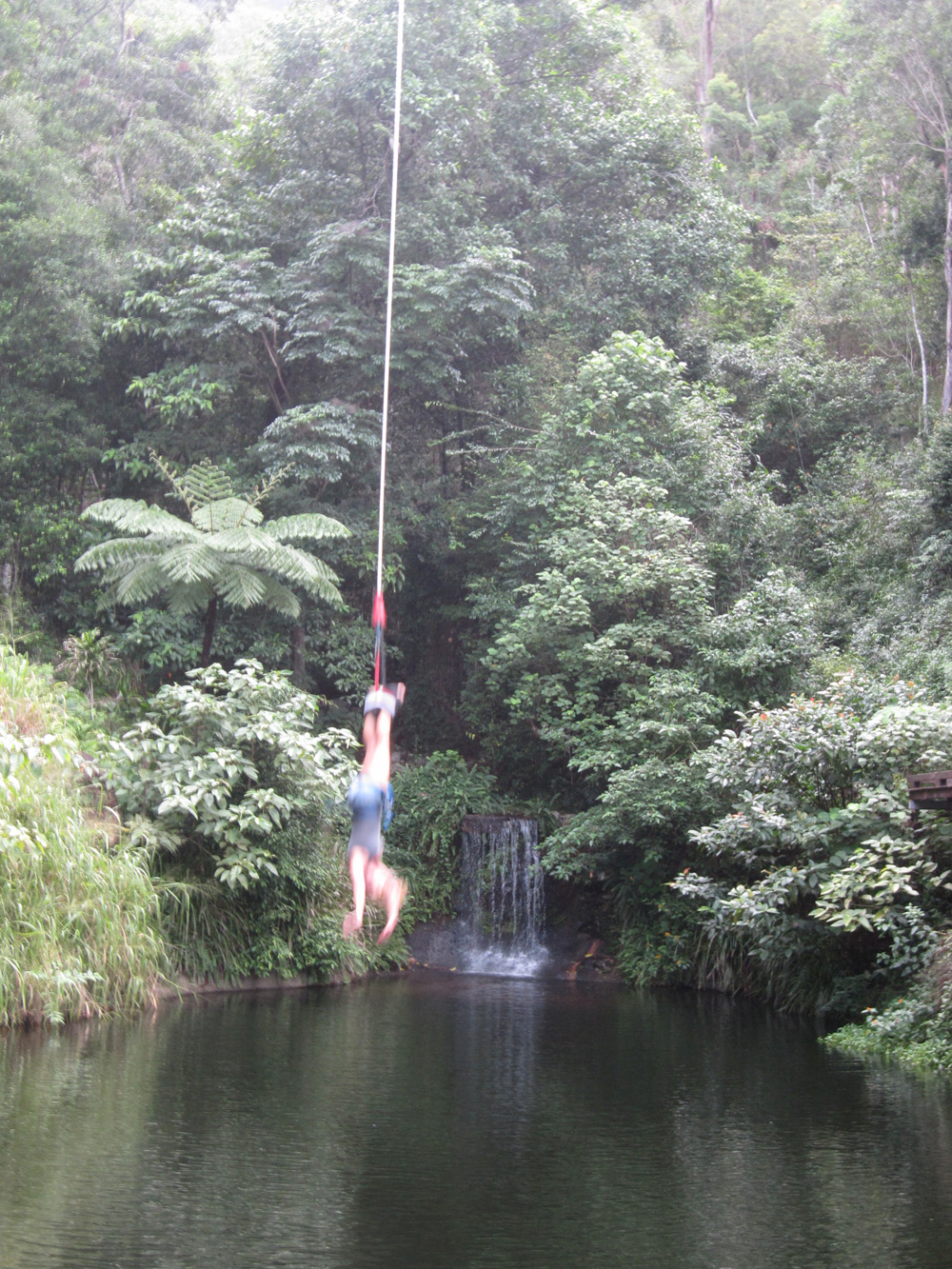 Bungy!!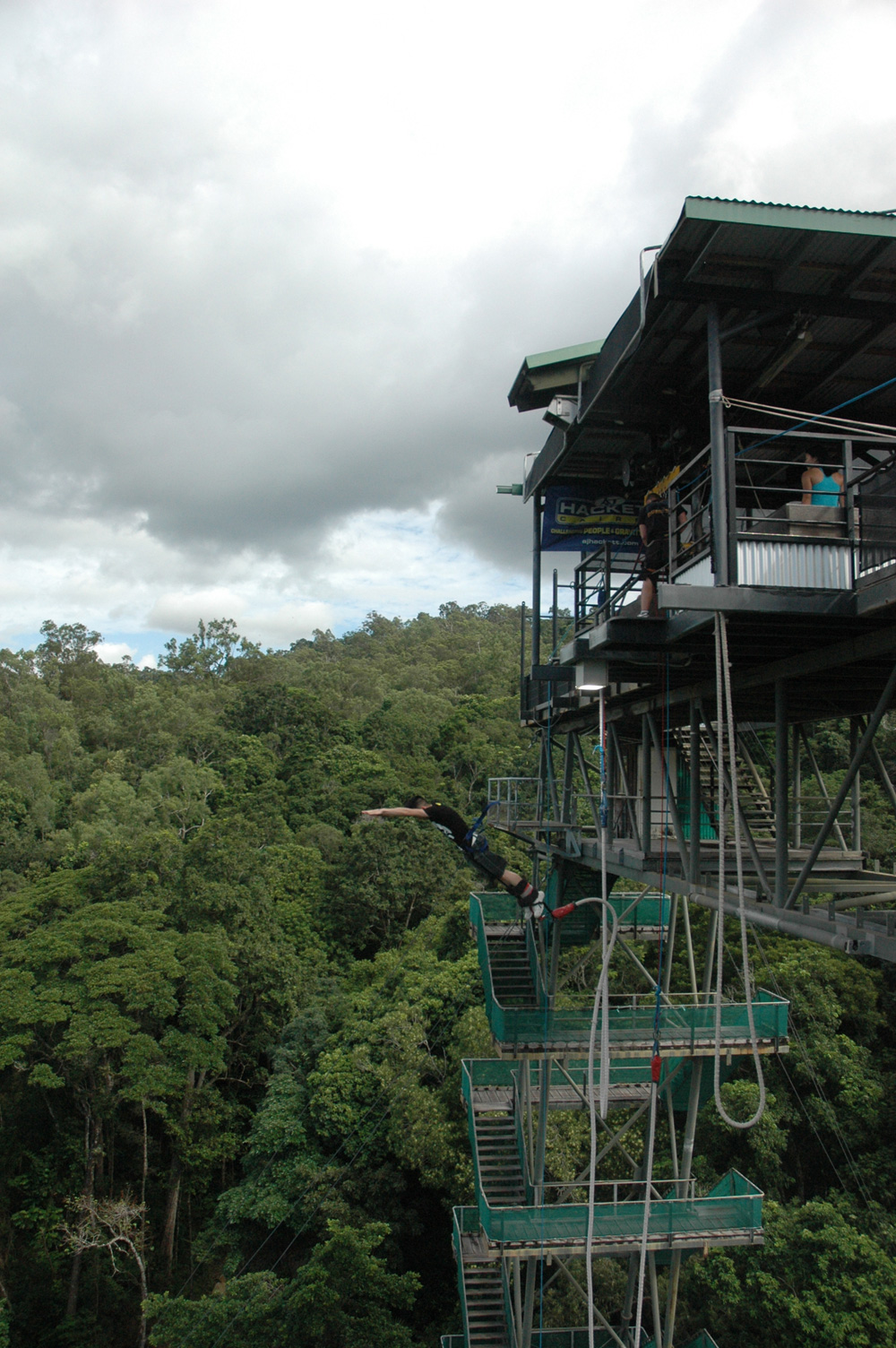 That's me! As you can see, my feet are first… expect some whiplash.

Bats!

Kangaroo Burger