Time for Busan (or Pusan…)
Grabbed a day-pass and locked up our luggage at the station and went to the Jagalchi fish market for some fresh seafood. mm…. The random fish, squid, octopus, clams, other random sea-dwelling creatures 0.o… sea bugs, stingrays, eel, shark brain o.o!, king crabs… crazy.
We found a restaurant inside the market and sat up on the second floor with a view of the dock and ocean. We ordered a lot and spent a lot on sashimi, crab stew, and…… freshly chopped octopus. The tentacles were still moving and sticking to the plate with its suction cups. it was a nasty sight to see, looking like a plate of live worms really… but tasted pretty good o.o! lol… we were supposed to also try the live squid but they did not go out to catch any that day so there wasn't any.
Next up we went to find our place for the night, which ended up to be the extra rooms above an old couple's house, small and… a bit… dirty. :S
We left quickly to our the main stop of the day, Haedong Yongkung Temple. Similar to Japan, Korea has several Buddhist temples even though the main religion now is christianity. At this temple, it was built by the seaside and was chiefly created for the most merciful Goddess, Boddhisattva. The temple was enormous and beautiful, definitely worth the subway ride and subsequent taxi to the location.
I have a lot of photos… but with no explanation behind them…
and our last stop for the day, Vesta. A spa. yup. spa. I experienced the same sort of thing in Japan's onsens so I was more used to it than last time. A public bath with a bunch of naked men walking around – -;… anyways. The spas ranged from 40C to 50C as well as an outdoor balcony and a waterfall-type area where you would stand under a high pressured spout of water and receive a nice massage.
In addition to the relaxing baths, there were also co-ed saunas that ranged from -14C to 70C, they are frakking insane. like…. wow. The girls took their sweeeeeeeet time in the baths, i fell asleep by myself in the co-ed floor for an hour before they showed up – -;… i wish i took some korean lessons before the trip
When we first thought of going to the spa we thought of staying there instead of finding a hotel or alternative place to stay but decided against it due to the sleeping with strangers sorta deal But as relaxed as we were after the baths, we decided stay there for the night and it ended up being a little regretful once it started to crowd up near 11pm and sleeping was harder for everyone with louder snorers than myself and hotter rooms. Michelle and Karen slept in the ladies' room which got crowded and hot, Cassie and Ashley slept in the main room that was blessed with an echoing snore, and I slept in the main sleeping room where I had minor difficulties falling and staying asleep.
HOWEVER, staying over would mean we'd be able to experience the relaxing baths once again and since we have to leave early anyways, it would be relatively empty as well 😀
No pictures from inside, prohibited. with all the naked bodies and all…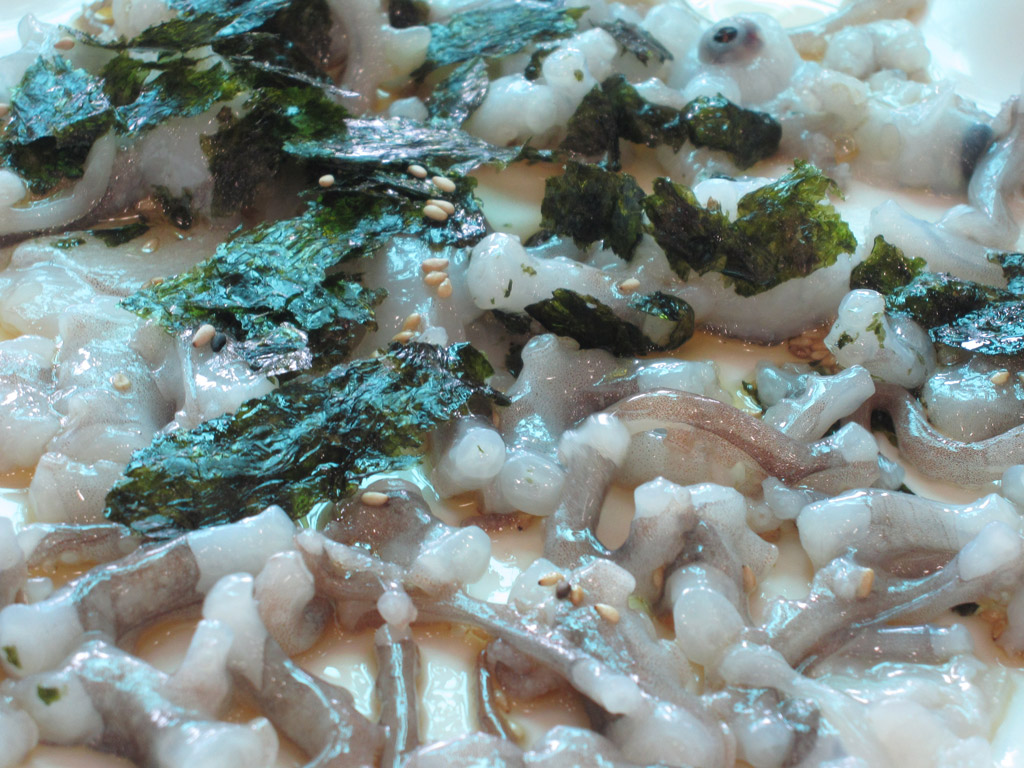 Freshly chopped Octopus

Astroboy at the Haedong Yongkungsa