After the morning bath and difficult sleep, we head out to grab our belongings from the place we didnt end up sleeping at 😛 It was 8000 won from each of us, 8$. o well. And today it was raining over most of Korea, we also had some bursts of hard rain in Busan.
Our next stop would be the Gimban International Airport. gimban?… sure. (correction: Gimhae International Airport in Busan, where'd gimban come from…) which would take us to Jeju Island by plane in 1 hour instead of ferry that would take 3-4 hours.
Arriving at Jeju Island we grabbed some brochures and rented a car. Yup. a car. We decided that this would be the easiest and hasslefree way of moving around Jeju, this is a common situation for tourists here since the buses are infrequent and untrustworthy. To rent a car in Korea you require an International Drivers License, which costs 15$ from CAA and… its valid for a year. pretty easy and painless procedure – -; anyways, we rented a… SM5, whatever that means, from a brand that we don't know of for sure… but it starts up instantly, rides smooth, and the brakes are more sensitive than the Stratus we have at home… which caused for abrupt stops while I was getting used to it. hahaha… sorry.
The car comes with an intelligent key card that locks, unlocks, opens the trunk. And AVIS installed a keyless ignition or maybe it was built that way, who knows… which starts the car in a blink of an eye. the best but most annoying part is the GPS system. There are a LOT of 'hidden' cameras that the GPS system warns you of, it goes a crazy flashing colour and annoying sound if you are above the limit while approaching the camera. This would also happen in school-crossing areas. It also marks the gas stations, police stations, some restaurants, and speedbumps, for some reason Jeju has a lot of speedbumps – -;. Of course, it's all in Korean so Ashley is helping to input locations and translate pertinent information 😛
After locating our hotel in the pouring rain, a pretty nice hotel, i might add, we went to Jeju's Glass Castle. To eat. We had bibimbap with mackerel and eel, and some other stuff. it was SOOOOO good. after scraping off every bit, we hit the actual museum. It displays a creative array of glass creations from door handles, fish, flowers, people, teacups, chairs, and the list goes on. Most of the display was outside so the rain wasn't very nice to us, although it did let up a bit. We had a lot of fun here 😀
The next stop, since MOST of the stuff was closed by now (7pm) we decided on going to Love Land, an…. adult-rated museum of sculptures and love-type-things. I'm not sure if I should say anymore besides that it was a fun place, great photo opps, and awkwardness bouncing off the wall when a group of mothers pass by. especially when you happen to be the only male in the current room… yup. Good times.
Driving back was crazy! There was a massive amount of fog and the streets/highways here aren't lit up with lamps but use the reflection of the car lights to help guide the cars. ONLY the reflections. gets a bit dangerous with narrow roads. Although it is still better than driving in Seoul where the drivers are…. not safe. or courteous. at all…. we would be hurt by now if i was driving in seoul. yikes. aaaaand sleep.
Oh. before that. there are a lot of energy saving additions in Korea. One would be the reflection only driving, another is the hotel key controlling the lights in the suite, once u remove it from the slot, all of the lights turn off. Our first condo had a sink that did not have its own pipes. Since the whole room would act as a shower stall, the sink utilized that drain as its own. In the current shower, you have to hold a button on the showerhead in order for it to spray, saving on water. it's the small things that add up!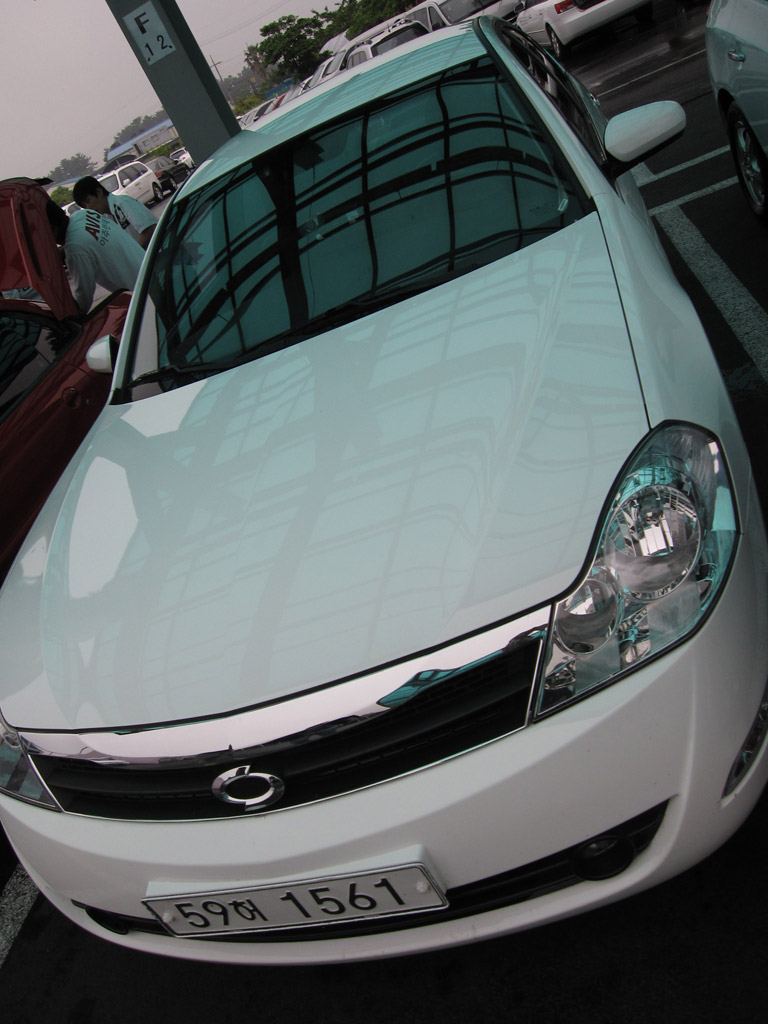 Our rental car for Jeju Island. SM5 0.o

The Phoenix, Guardian of the South, at Glass Castle (i know its not made of glass…)