Warning
: Use of undefined constant gad_content_tag_filter_replace - assumed 'gad_content_tag_filter_replace' (this will throw an Error in a future version of PHP) in
/home/surfer_u/travel.andrewu.net/wp-content/plugins/web-ninja-google-analytics/webninja_ga.php
on line
1813
Staying in Mykonos, the plan this morning was to wake up, hottub, breakfast, and go. However, the first part didn't go too well. 😛
Karen came by briefly before she went to the hottub and we…. Slept. Mike and I were in a different room so she couldn't wake us directly. Oops.
Finallly getting up for breakfast, we got our fill and rented a car! A spark. Manual. Mike drove :P. Our plan today was to drive around the island and visit the sights and beaches. Well, mostly the sights are the beaches…
Our first stop: Paradise Beach… But on our way to Paradise, we ended up at Super Paradise. The roads are treacherous, narrow, windy, bumpy, uphill. I'm glad mike enjoyed it. Pretty early too, it was practically empty, aside from employees and a random nude dude at the other end of the beach. The sand, sun, water, mountain sides, and for the moment, all ours. Very nice.
But we didn't stay, more to see! Next we actually went to Paradise Beach. It was a bit busier, according to Karen, not as nice as Super. So we got our pictures and went off to the next location, Elia.
Pitstop, we found a nice pastry shop called 'Epoca'. Delicious. Sorta in the middle of nowhere, but Mykonos is basically two main roads and a lot of small ones. Karen, our local food critic, declared these desserts as the best we've tried in Greece. Wheeee. Karen and Mike had some sort of chocolate crumble while I got the strawberry cheesecake. Yum.
Aaand Elia. Adventure! Making turns onto narrow roads, roads meant to hold one car, never a fun idea. As we make our way through, we end up doing just that, and luckily enough, there was a driveway we drove into. By this time we were feeling preeeeetty lost, u-turn? Hm. As two cars driving against us pass by when we're in the driveway/garage, the homeowner comes out of the door and is so surprised to find a random car of asians there to greet her. After some laughing we explain our situation and she tries to direct us in the right way to get to Elia. Eventually she decides it would be easier if she just drove and showed us the way! Super nice lady. Narrow roads. And cliffs. When we got to a certain point, she told us that she is actually from New Zealand but is Swiss, but has a home in Greece and lives in other places too. Pretty crazy life. We eventually got to Elia after a bunch more turns and hills.
Elia is nice, but not as nice as Super. Pictures and we're off again, after all that trouble. Instead of going to another beach we headed back to Super to chill and spend some time soaking in some sun.
On the way to Super Paradise, there is a fork leading to either side of the coast so this time we decided to take the other path. Following it all the way up and down, turn, etc, we end up at a construction site! Oops. Making the turn back up the road, in the middle of the hill, the car stalls. And we're rolling back! Brake. Holy shit! Mike was driving manual and trying to catch the right spot to drive up while also not rolling back into anything and the clutch ended up burning a bit 😛 Was pretty funny 🙂 in the end we just rolled back a bit more onto flatter land and made our way up.
Finally getting to Super Paradise we spent about an hour or so taking pictures and sunbathing. The beach was definitely a lot busier than the several hours we were here before. And the lounge chairs + umbrella had 'rental' fees 🙁
We eventually left and made our way back into central Mykonos to find some food and possibly some souvenirs. Melon ice cream. Pistatsio, the greek lasagna, yum.
Back to the hotel, and eventually got onto our plane to Athens, our last leg of the trip. The flight was approximately 20 minutes in the air, barely settled in. Taking the x95 bus to Syntagma Square, Mike leads the way to our hostel/studio, Athens Backpackers/Studios.
Walked around a bit and had our dinner and got ready for our next day in town.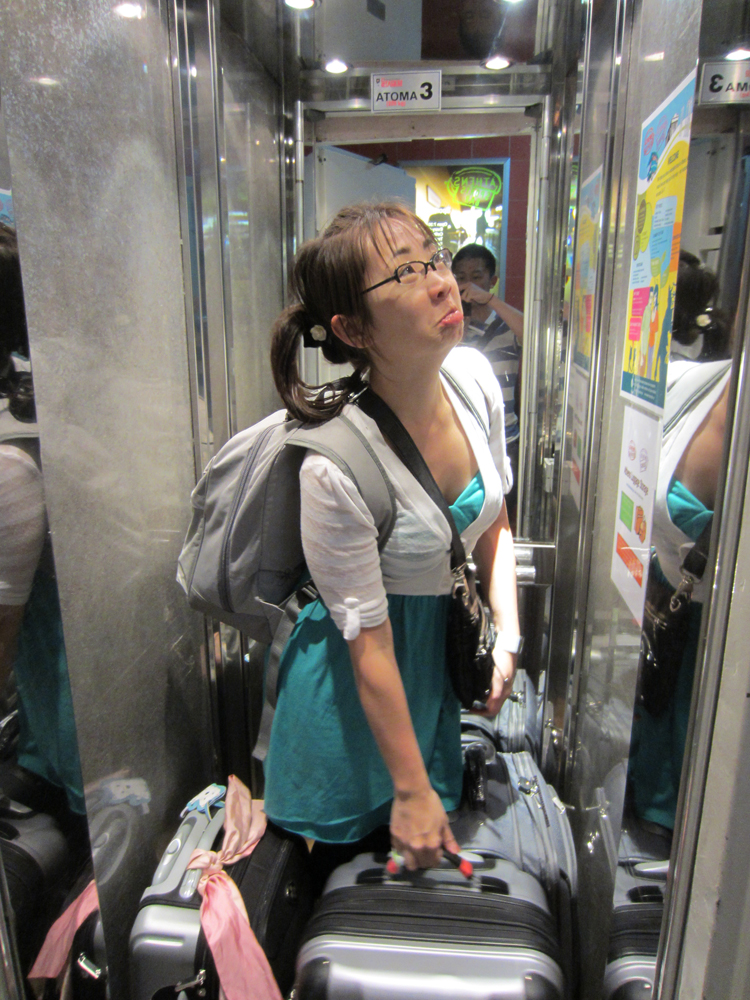 Karen in the Athen's Studios Elevator with the Luggage

View from our Balcony