Busy busy day.
Our first stop was the Miniature Park. Although our timing was pretty bad since we arrived at the exact same time as multiple buses full of high school or middle school students. They were also on the same plane as us, and stayed at the same hotel – -;…
In the miniature park we saw several buildings/monuments from around the world in… mini form. the white house, eiffel tower, leaning tower of pisa, great wall of china, etc… it was fun and we took a lot of pictures.
Second, we dropped by the o'sullac tea museum, which turned out to be an amazingly designed building. the interior was beautiful with interesting signage, nice displays, cool walls, packaging, furniture, flooring, everything was thought of and it is probably the best building we've been in. not to mention the green tea. The ice cream, cake, and actual teas 😛
Across the road was the actual fields full of green tea plants. the rows of bushes just kept going and going. being the 'creatives' we are, we spent a long time just playing and taking pictures within the fields. we had way too much fun just being in green tea fields…
Third stop, the Teddy Bear museum. Also a very nice building, a spire at the top that let in all natural lighting to the main area of the building. The museum held several different 'teddy bears' dressed up as movie characters, famous stars, historical events, dracula, the list goes on and on, there were so many of them it was pretty crazy. even sculptures of teddy bears. it's too bad there was so much glare in the windows.
This was also the setting for a part of a korean drama, Goong, which depicted sequences in the drama through teddy bears. Cassie went nuts when she saw them 😛
Four. Cheonjeyeon Falls. This one turned out to be a let down… out of three of the tiers of waterfalls, we only saw one. the first one was a hit or miss depending on waterflow, and the third one was several… far away. and there were a lot of stairs.
The only good part about this one was the bridge which offered an amazing view of the ocean and the 'subtropical forest' of cheonjeyeon. where we took the opportunity to snap a lot of shots.
Fifth, Daeyoo Land where we were supposed to ride ATV's, shoot stuff, and get some good food. 2/3. It turns out that the tickets we bought prior (at a special rate at the AVIS rental shop) was only for the ATV – -;… we didnt pay for the big package that included the atv, shooting, and food. After looking at the prices for shooting, 30000 won for 12 bullets at the pistol and at the clay shooting range…….. we decided to skip it. but we were starving, so we got food which turned out to be decent, not anything spectacular.
Afterwards we (karen, cassie, and i) hit the ATV track, which turned out to be pretty awesome! just following a track, pushing the accelerator, and standing on the thing, it was looooads of fun. although i ended up having sand in my eyes and soot on my nostrils…
Six. Paper Doll Museum. The GPS gave us a lot of trouble for this one. it led us all the way around the sports stadium. the stadium had a lot of things inside of it…. a movie theatre, and multiple permanent 'museums'… which was pretty weird.
Anyways, the dolls were veeeerrry interesting, but so creepy. extremely. the way they are made, they don't have eyeballs. they have… eye slits. creepy. but a lot of them were pretty cool either way. We also ended up in a section that held historical korean stuff like the evolution of cellphones, typewriters, movie posters, weird stuff like that… at the end of the hall was an old classroom setting. for some reason there was a gun prop, which cassie had a lot of fun with… …
Seven. this one was very spontaneous. Since we didnt do the shooting at Daeyoo Land, we discussed alternative activities and Ashley was able to set up something pretty cool and exciting. Jetboat and Parasailing. frakken awesome.
Karen, Cassie and I (again) paid 45000 cash instead of 65000 :D! because of some package deal and we rushed onto the boat. As we were pulling into the parking lot, other people were already putting on lifejackets. And off we went. It was preeeeeeetty cool. the driver did a lot of sharp turns and 360s and made sure all of us got at least a little wet. we could taste the saltwater from the splashes, hahaha… he also stopped at a couple places and told us about it… in korean. so we learnt a lot – -;
and we arrived back at the docks and quickly got changed to prepare for parasailing!! we are strapped into a harness, attached to the parachute, and the driver just sails away, leaving us to drift in the air, falling down again, and up again. it was an amazing experience that i'd do again anytime. i went up first and had a blast. they brought me down three times. the second and third time they lowered me into the cooooold water, thigh deep, or deeper, i lifted myself higher :P. it's a good thing i changed, i had pants on before. Karen and Cassie went after me and they both had an amazing time 😛 (my vocabulary is limited for some reason…)
Eighth. the 'Museum of Health and Sex'. yup. not as… playful as Love land, it was more scientific and had many artifacts and old drawings from different cultures. no pictures were allowed inside, so we had a bunch from the sculptures that were outside. hmm… meh.
Although we did witness a stupid car accident in the parking lot. A girl just reversed SO fast into a car behind her. it was the only car in that row of parking spots… it just happened to be parked behind her… ……. the car looked a LOT similar to ours so a couple of us were a bit freaked out for a second until i assured them we parked elsewhere. but yea, the girl reversed into the car and the second car… bounced backwards about half a parking spot. no cracks from what we saw, it was a bounce… weird. lol, we quickly left after that, as the owners of the other car came to see their car out of place 😛
Nine! Dinner~ Ashley directed us to a Jeju Island specialty. Black-haired pigs. Apparently they are soooooo tasty due to the fact? that they feed off their own feces. 0.o either way, it was pretty good. The restaurant we went to had a unique way of cooking the meat as well (we cook it ourselves) but instead of the usual grill, they utilize the covers/lids of the traditional rice cookers, which proved to be good conductors of heat and didn't burn the meat as fast as korean bbq places in north america do. yum.
After trying to find an onsen/spa nearby and failing, we headed to our hostel for the night which seemed to be particularly out of place and empty 😛 but the lady that greeted us was nice and we have pretty good internet and a very nice view of the ocean (we think)… i can currently see a lighthouse in the distance and hear the waves.
a good day.

O'Sullac Tea Museum. i have a pretty bad tan T_T…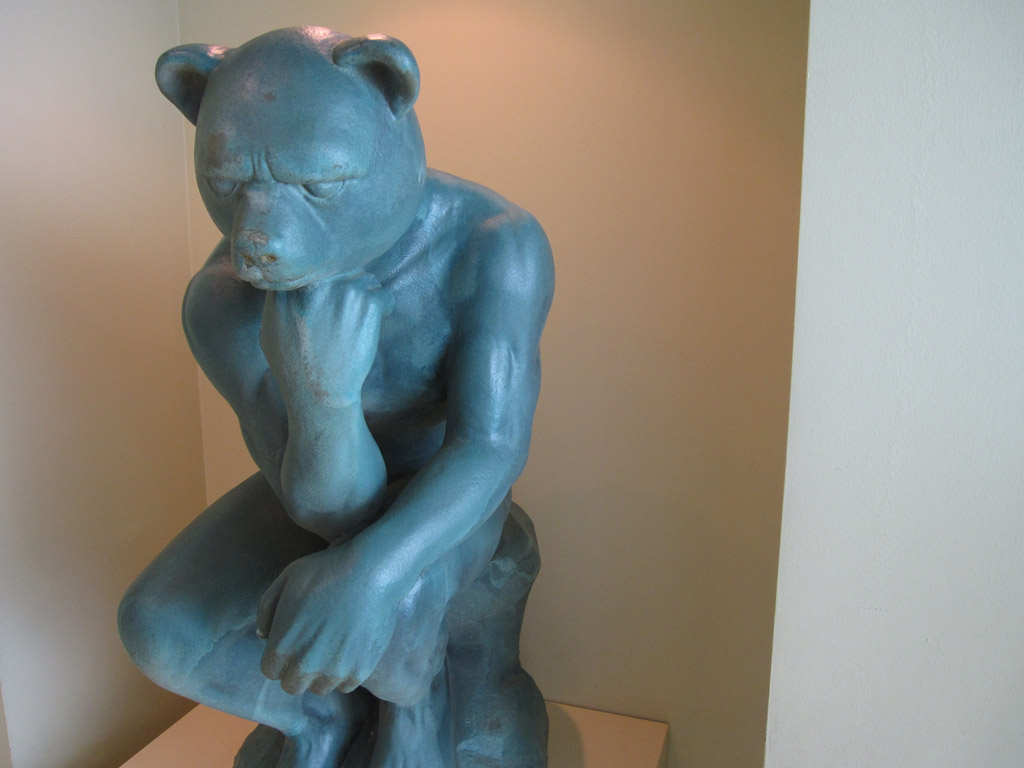 The Teddy Bear Museum, the thinker

The Paperdoll Museum, creepy melted heads sculpture

Jetboat coming back from an adventure

Parasailing!

Black-haired pig pork