Warning
: Use of undefined constant gad_content_tag_filter_replace - assumed 'gad_content_tag_filter_replace' (this will throw an Error in a future version of PHP) in
/home/surfer_u/travel.andrewu.net/wp-content/plugins/web-ninja-google-analytics/webninja_ga.php
on line
1813
because of our late night we all woke up around 11ish instead of 10… good timing for lunch tho. since david lives and works around here, he frequents some places and this time we went to a small quaint okonomiyaki shop called… yorimichi i think. our second time having okonomiyaki and this time it looked… nicer, fluffier, better o.o… and that it was. last time it was a large 'manten' mix but this time we chose a couple ingredients instead. i got meat (pork) and corn which turned out really good.. .mmmmmmm. and its really filling too. like. really filling.
the owner knows david and we're introduced as the canadian foreigners, but they think i'm japanese (cause i haven't said anything yet)… and i get to practice listening to japanese that i understand and trying to answer in jap too… it's fun but challenging. esp when you dont know a word or two that'd be essential to your answer… like… 'graduated', whenever they ask y we're here on vacation or if we're students… hahah it's a good thing we have a translator
dave drove and took the long, scenic path with lots and lots of twists and turns and crazy signs that make it look like 90 degree turns, and unnecessary curves… crazy. would be insane drifting and racing on this route. insane. i fell asleep for a while in and out of a daze.
when we finally stopped for a break, we were at a lookout point that gave us a view of the daikanbou. which is a formation of mountains and hills that look like a buddha lying down, pretty interesting… and an amazing view of the city below
we then headed towards mt aso, or mt nakadake 0.o… there's some difference… lemme google it… ahhh. ok. mt aso is the compilation of 5 different peaks of volcanoes and mt nakadake is the largest active volcano in the world. o.o in the world! when we entered the peak area, the sulfur level was 0 and you can look into the nakadake crater, which was pretty cool. the water was green from the minerals in the volcano and steam from the water gathered and rose continuously, it was pretty cool. when i walked further up, i began coughing O_O! a bit scary, u feel it in your throat and u can't help coughing. by that time, the warning turned yellow (2nd highest level out of 4 levels)… and we sat around in the stone huts, that were built to avoid… stuff 0.o… talking about movies and random shit. it was preeeeetty chill.
got back into the car and headed back to david's place, supposed to meet at his friend's place around 630 for a dinner party thing. on our way down we caught glimpses of a lot of interesting landscapes, the most interesting, komezuka. it is the hill/mountain that has a large round crater in the middle, the tip looks like it is scooped out. stories go that the city was starving and the gods scooped out the top of the hill to feed them. the crater was formed naturally, so it's pretty cool to see.
arrived at cheryl's place, greeted by their kid, lance who's a year and… a bunch of months old, pretty cute :P… don and cheryl's house. the other ppl that were there were… takao (25 or 6), chase (?) and his wife, midori, they got married in… february. and more ppl to come later on. just small talk, still a bit awkward not knowing anyone, so we played a bit with their kid. more people showed up… eriko, arlene and her dad, keith and rie (who we met a couple days earlier), and a couple of other people…
chase had a small namco attachment that played ms pacman, mappy, and some other games. for a while we played those games and it was awkward talking to anyone… just sorta kept ourselves until a bit after dinner, eriko and michelle bonded a bit, i talked a bit with arlene's dad, (yea, weird) from the philippines who was staying in japan to help out arlene cause she's pregnant… and so is cheryl, she's expecting her second in a couple of weeks.
everyone was admiring michelle's body… like, all the women there. lol… and i got called cute 😛 someone said david was sexy but then he turns cute after talking… lol. that was some weird conversation…
after a bit michelle and i ended up talking to don and cheryl. they're both engineers and have been in japan for almost 2 years. when they first got here, they didn't know -any- japanese, they're both from america, went to university together, started dating in 97 and even considered joining the peace core… they decided that once cheryl got pregnant, she'd quit her job and focus on raising her children, she wanted to do this as well, and at the time, don's work (teradyne, david works here too) was offering positions in a japanese branch. once cheryl got pregnant, the timing worked out great and they decided to move out here to kumamoto to have their first (and second) child. teradyne provided a private tutor for them and helped them setup everything they needed, housing and other essentials.
they still own a house back in… california? and don't plan on staying in japan for too long, maybe another couple of years. their way of life is amazing, they moved to a country where they didn't know the language, knew a couple of people, and started their family. it's inspirational and adventurous. and we headed home soon afterwards… zzz

crater of mt nakadake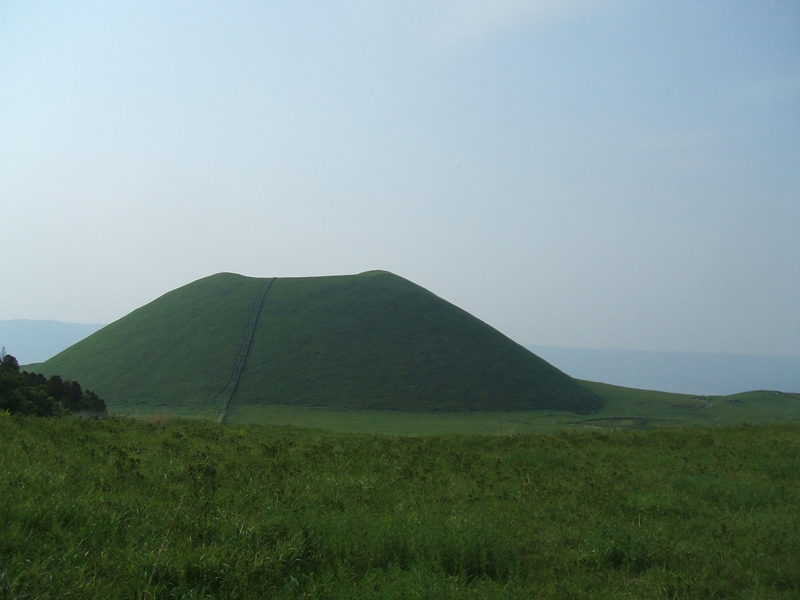 komezuka